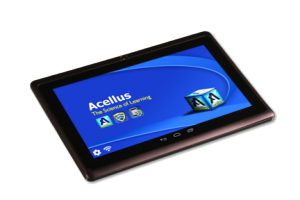 Combining the engaging student experience of Acellus with ruggedness designed to "go the distance," Acellus again brings a new dimension to the world of online learning. The Acellus Electronic Textbook uses Acellus' lock-down technology along with a tough new design to provide a computer that is ready to go 1-to-1.
The International Academy of Science has developed a large suite of courses designed for use with these computers. These courses range from traditional K-12 courses, to a complete series of Career and Technical Education courses as well as Advanced Placement courses. More information on courses offered
The Acellus Electronic Textbook is a 7 inch flat panel computer that has been locked-down for Acellus use only.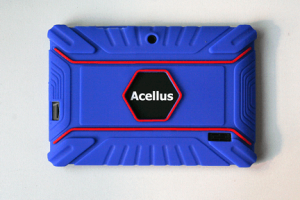 While Acellus can be run on tablet computers, students are often distracted with games, social media, and other non-appropriate uses. Sometimes, these recreational uses result in machines becoming infected with computer viruses. The Acellus Electronic Textbook prevents the student distractions and virus vulnerability by being specifically designed for educational purposes.
On the teacher console, there is a "maintenance unlock" feature which unlocks the system configuration settings so that repairs can be made to the system. Upon usage, the Textbook computer automatically re-locks. These units cannot be used in applications requiring a normal tablet computer, even if the maintenance unlock feature has been temporarily activated.
Features Include:
Android 4.4
Quad-Core processor
512MB, 8GB HDD
7-inch screen, 800×480 resolution, capacitive TFT display
Interface: USB, 3.5mm earphone jack
Battery: Lithium, 2500mAh
Wifi – B/G/N