The Pueblo Chieftain
Sunday, March 19, 2006
Best Teacher
Patrick Mara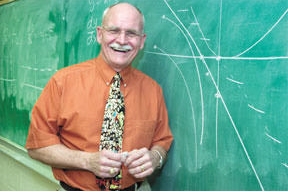 With compassion, patience and innovation, Patrick Mara is a proven leader in Pueblo's classrooms.
Mara teaches math at both South High School and Colorado State University-Pueblo. He also is responsible for developing School District 60's computer education program, implementing an advanced computer science program at South and piloting the use of interactive materials in the school's science department.
A Pueblo native, Mara graduated from South and received both his bachelor of science and master's degrees from Colorado State University in Fort Collins.
After teaching a year in Denver, Mara returned to Pueblo and taught for 12 years at East High School. He then spent a year in administration, but eventually returned to the classroom at his alma mater, where he has been working for the past 20 years.
An accomplished educator, Mara has received the title, "Master Teacher," awarded by the International Academy of Science for his contributions to Acellus® FUNMath, Algebra, Geometry, Trigonometry, and College Entrance Exam Preparation courses.
He also is a recipient of the Disney Channel and McDonald's American Teacher Award, the Presidential Award for Excellence in Science and Mathematics Teaching, and the Colorado Educator Award.
According to the International Academy of Science, Mara is "recognized across the nation as a teacher that really cares about his students, helping them to regain confidence in mathematics as he fill in gaps in their understanding."
Mara finds his career to be extremely fulfilling, because he is able to "help prepare the finest students in town for their futures."
Mara said he was shocked to be selected a "best of Pueblo."
"I would just like to thank everyone who voted for me. This means a lot, especially in the twilight of my career," he said.
Vanessa H. Furuto

Return