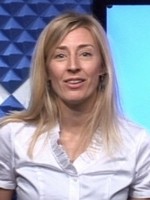 Ms. Erdtmann aids students to build reading confidence and proficiency while mastering challenging reading concepts through the Acellus Basic Reading II course.
Ms. Erdtmann is the Reading Program Teacher for 8th graders reading at fourth, fifth and sixth grade levels at Bridger Middle School in Independence, Missouri, where she was honored as Teacher of the Year for 2009-10.
Outside of the classroom Ms. Erdtmann enjoys coaching both volleyball and track.

Return