---
Today our world is under cyberattack. It's becoming a very big, a very dangerous, and a very expensive problem. Not surprisingly, then, our schools are under cyberattack.
To protect school networks from these attacks and still provide the enrichment of digital resources, Acellus has created the 
Internet of Learning 
— a new Internet designed specifically for education that gives students access to essential information without opening the door to Internet-spawned...Continue Reading
---
Many types of student assignments need to be uploaded to the teacher for grading.  The process of uploading homework in Acellus has now been significantly expanded with the new Acellus student upload feature. With the new feature, assignments can be uploaded to teachers digitally, either in the form of a text document or as an image. When students click the 'Special Lessons' button and find they have an assignment to do, they can click 'Add Work' to have the option of creating a document or an image that they can then 'Turn...
Continue Reading
---
The Acellus Credit Recovery Mode: Redefining "credit recovery" The Acellus Credit Recovery Mode was created specifically to meet a dynamic credit recovery need. Note that it is a "mode" — not a separate curriculum. Rather than a different course, it is a different way of administering a course, providing on-demand, targeted credit/learning recovery tailored to the individual student with total teacher control of the material to be covered. Teachers can activate Credit Recovery for any student at any time with a single click — even if the student is in...
Continue Reading
---
The robot — Cellus Bot — is part of the new Acellus STEM Robotics Lab designed to pique the imagination while building STEM skills in students with special needs.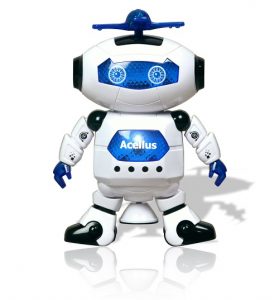 Why STEM for Special Ed? We know from recent studies that the number of children diagnosed with Autism Spectrum Disorder (ASD) alone is on the rise - 1 in 45 at the latest report. We also know that a large number of students diagnosed with an ASD actually gravitate toward STEM fields —...
Continue Reading
---
The new Foundations of Music course is an Acellus elementary school elective that gives students a basic but broad introduction to music. It includes a brief history of western music, with its different periods and musical types, and highlights some of the famous composers from Bach to Aaron Copland. It also gives students an overview of world music traditions and sounds, as well as basic instruction in music notation. One of the course highlights is the demonstration of different musical instruments by members of the U.S. Army Field Band, who give a brief history of their instruments, explain...
Continue Reading
---
High school students wishing to study French as a second language now have that opportunity with Acellus' newly released "French I" course. A major objective of the course is to help students become conversant in French in a variety of situations and environments. The lessons present sets of words and then use them in common phrases that students will most likely need to understand and may want to use. Students learn to converse on practical subjects such as types and styles of clothing, places to go in the city, objects they would...
Continue Reading
---
For students interested in pursuing a teaching or administrative career in education, Acellus now offers the "Instructional Standards in Education and Training" course that gives an eye-opening overview of what to expect and how to prepare. The course provides an abundance of practical and valuable information and insight, delivered by veteran Acellus teacher Todd Edmond, who draws on a wealth of experience from his own teaching career. Beginning with the preparation necessary to become a teacher and continuing with getting a teaching job, creating lesson plans, organizing self and classroom, and meeting the basic...
Continue Reading
---
The new Acellus "Introduction to Accounting" course gives a comprehensive overview of the field of accounting and is targeted to students who are contemplating an accounting or accounting-related career. The course is also worthwhile for students who anticipate starting their own business or who otherwise need a basic understanding of financial operations. "Introduction to Accounting" covers the fundamental accounting principles from financial statements, accounts payable/receivable, inventory, and payroll to more advanced subjects such as financial ratios, cash controls, special assets, taxes, regulations, and ethics. The breadth of the topics addressed in the course...
Continue Reading
---
---